Dealing with recent storm damage on your home's exterior?
We're roofing specialists, AND can also replace and/or repair anything on your EXTERIOR!
Solar Detach/Reset
Siding Repair
And more…
After a hail storm or wind storm, Denny's Roofing can offer you an array of exceptional exterior restoration services along with our EXPERT ROOFING SERVICES.
You want to make sure that you do the work to repair your home after a storm because when its time for you to sell, you certainly want your home to be in GREAT SHAPE to get top dollar for it after your home inspection. Existing damage will cause you to either lose money or do the repairs at an inopportune time. And it can be costly.
Doing so will also:
Boost Curb Appeal
Increased Resale Value
Increased Energy Efficiency
Lower Utility Bills
Decrease in Overall Maintenance Costs
Potentially Reduce Environmental Impact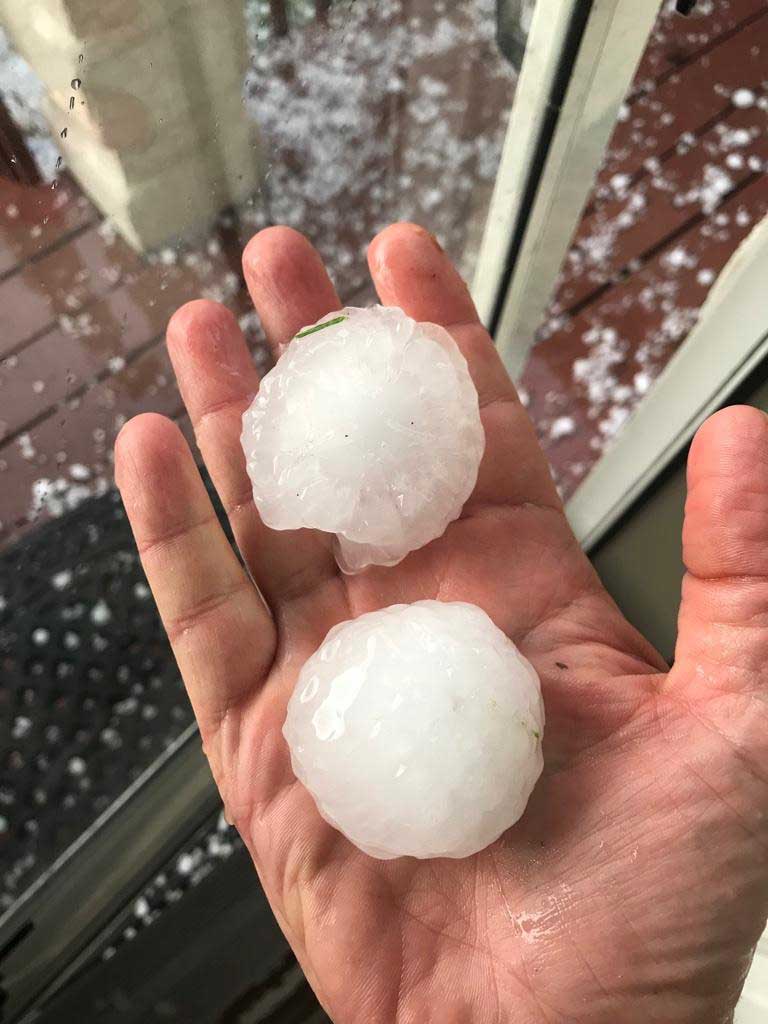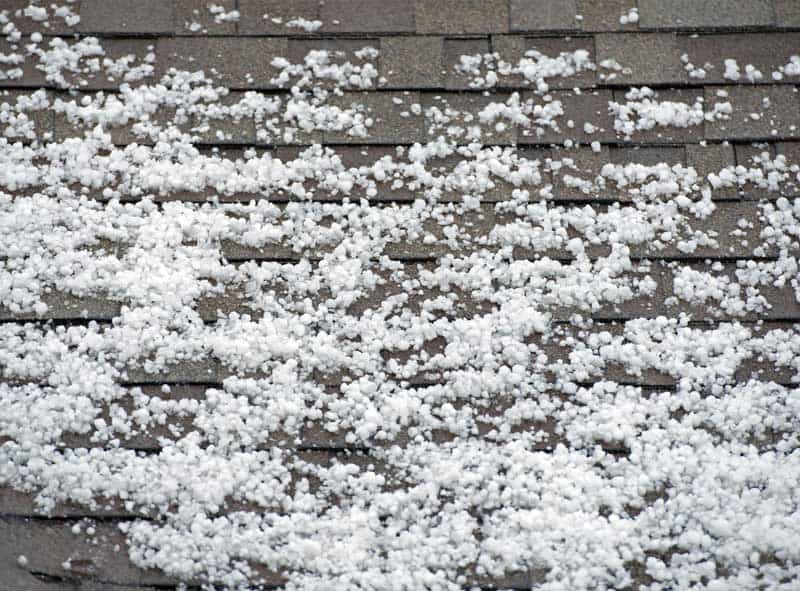 When a hail or wind storm hits your neighborhood, it can cause a huge amount of unwanted damage to your home. Your roof, gutters, skylights, windows, siding, screens, and paint are the first line of defense for your home since they're all directly exposed to the elements. Because we live on the Colorado front range, and the weather here can be a bit extreme from time to time, there's a good chance that at some point, you'll have some unwanted damage will occur as a homeowner.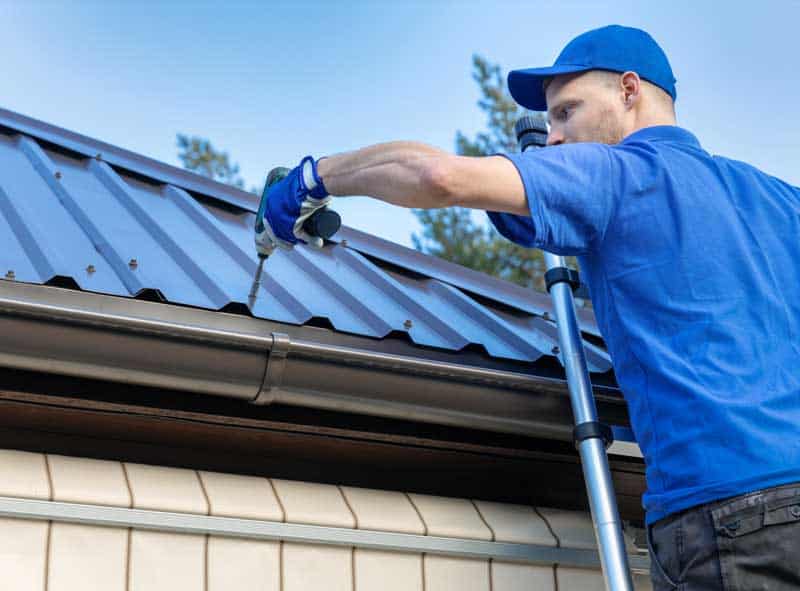 When a storm sweeps through your area, knowing exactly what kind of damage to look for on your house afterward is important. If you get the feeling that there might be an issue, ask a professional roofing contractor to take a look at your home. We have a trained eye that KNOWS what to look for and what insurance companies will consider damage, which is key to keeping your home in good shape.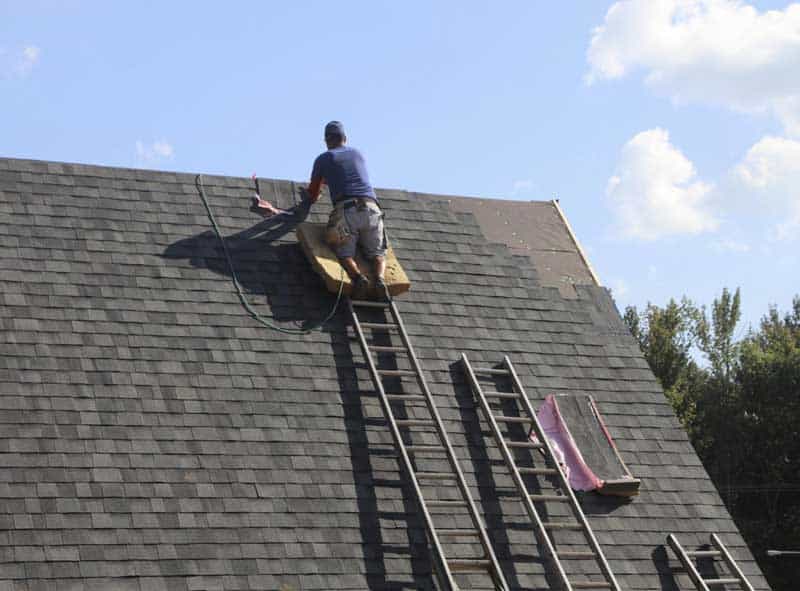 You might be surprised at what will cause problems down the line as your building materials age. Insurance companies know this and are willing to repair them before they become a much bigger cost for them. With the big swing between summer heat and winter cold, small problems can turn into larger ones if left untreated for too long. One of our experts can come out and look for any damage that might have occurred, giving you an honest assessment and letting you know if a repair or replacement is in order.
Hopefully everything's fine, but if you do have damage, you need to protect your home before the next big storm. We'll come out and take a look outside and inside and your home to make sure you're in good condition and hopefully haven't sustained any storm damage. We're happy to come look so you can have peace of mind!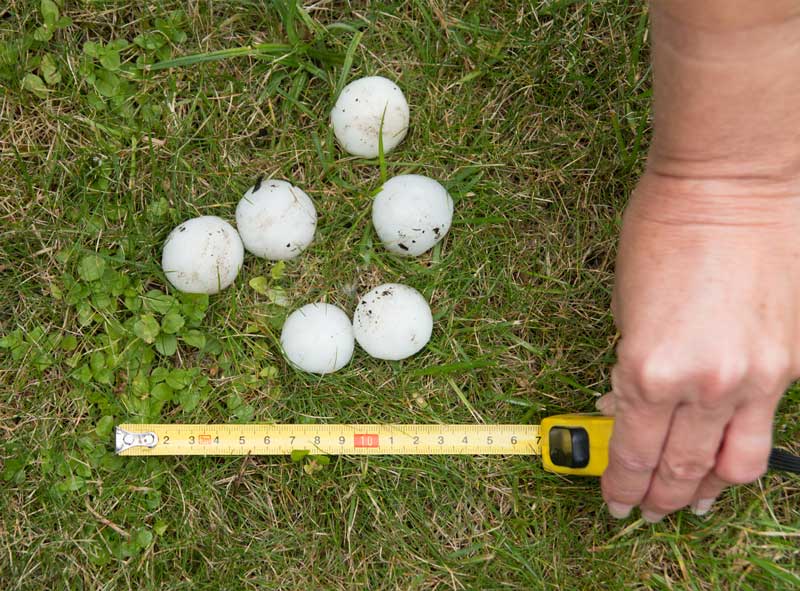 Proactive Storm Preparation — Prepare Your Home Exterior Before a Storm: If you know a big storm is eminent, or if you live in an area that's prone to hail, high sustained winds, extreme rain, ice, and snow, be proactive and take the time to look at your home for any loose gutters, siding, shingles, or other external materials that could be an opening for damage. Also, take a look at your trees and get rid of any loose or dead limbs that could fall and damage your siding, windows, or your roof. A little bit of proactive protection can go a long way.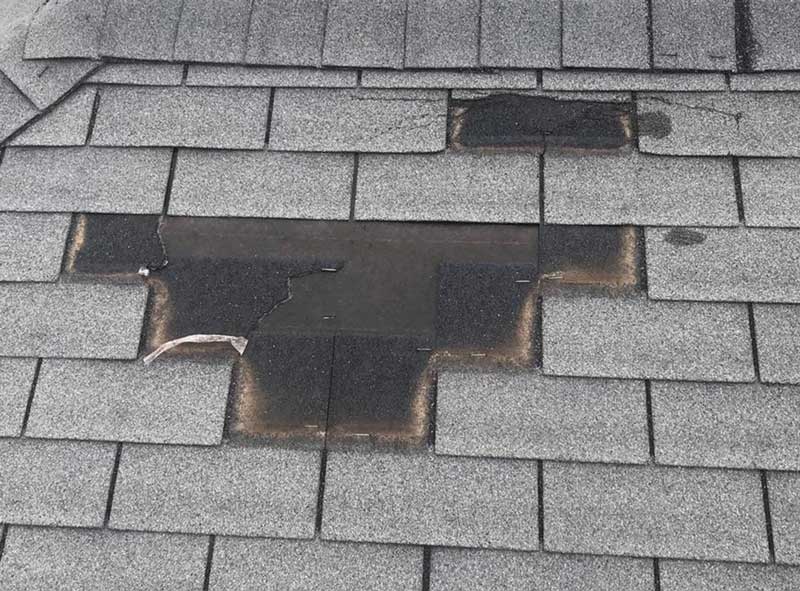 Inspect your Home Right After a Storm: After the storm, go outside and take a walk around the property to inspect your home. It's important to look for missing roof shingles or tiles, loose flashing, loose or damaged pieces of siding, as well as any window frame or glass damage that may have taken place. If you've had hail storm, look at any skylights from the inside out and check for cracks. And if you think there's damage up on your roof or to a skylight, ask an expert to come out and take a look. Exterior damage can come from hail, high winds, fallen tree branches, or other debris.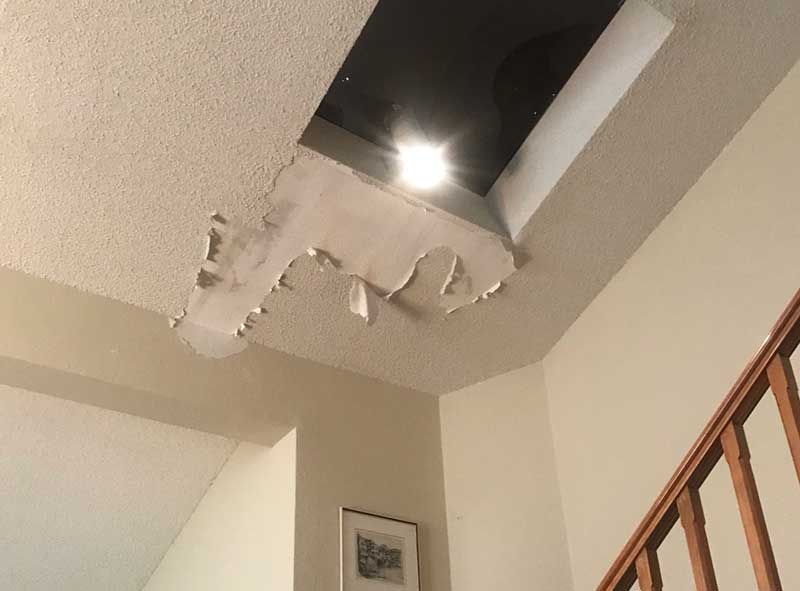 From Inside the Home: Examine the exterior walls for any water damage, cracks, or leaks. A crack in the exterior wall could lead to water penetrating between your siding and interior walls. Fluids can run quite a distance when there's a leak. Document any damage you find by taking pictures. This information could be useful for insurance purposes if you have to file a claim, or to identify the location of damage that might not be as obvious after the storm.
Will your Home Exterior Need Repairs?
As you check the exterior areas of your house, look for signs of damage on siding, windows, or other parts that might need to be replaced. Obviously, you may want us to come out and get up on top of your roof to check and see that it's okay too. We'll happily come out and do a free inspection if you think there might be some damage after a hail or wind storm. And if there is any damage, we can help you navigate through the insurance claim process which can be confusing. The national average shows that only 3% to 5% of homeowners have an advocate to ensure that they're properly indemnified after being damaged. We can help.
Here are some specifics of what to look for as you examine the exterior: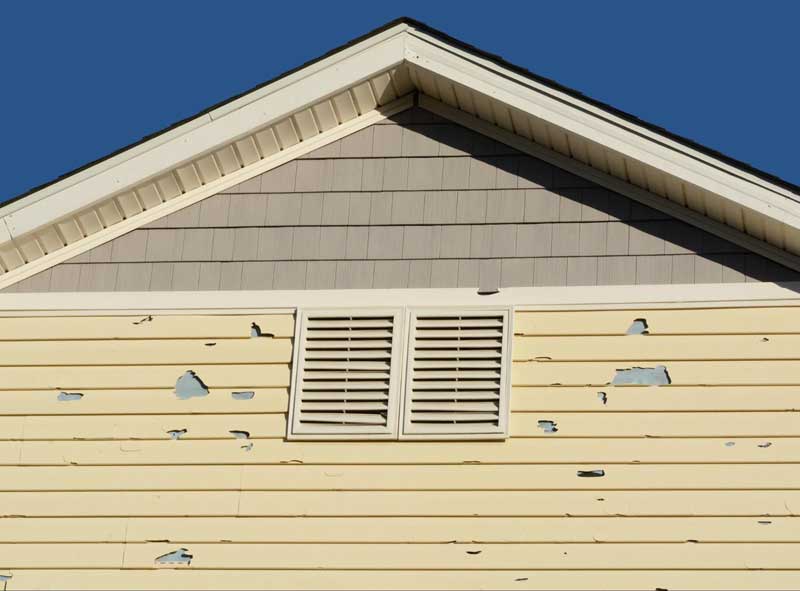 Siding: When you check your siding, look for indentations or dimples caused by water. Damage can also show up as cracks or bends in the structure. Although it's uncommon to find holes in your siding, it does occur in hail storms, so do a quick check and also look for any pieces lying on the ground that the wind might have ripped off. On older wood siding, when the edges of the siding have the paint fail, water can get into it and compromise the strength of the board. It will start to swell and can bubble up in certain areas. If you see any damages, no matter how small, you'll want to have someone come out and look at it as sooner than later. As we have mentioned, a small issue can very easily turn into a big headache down the line.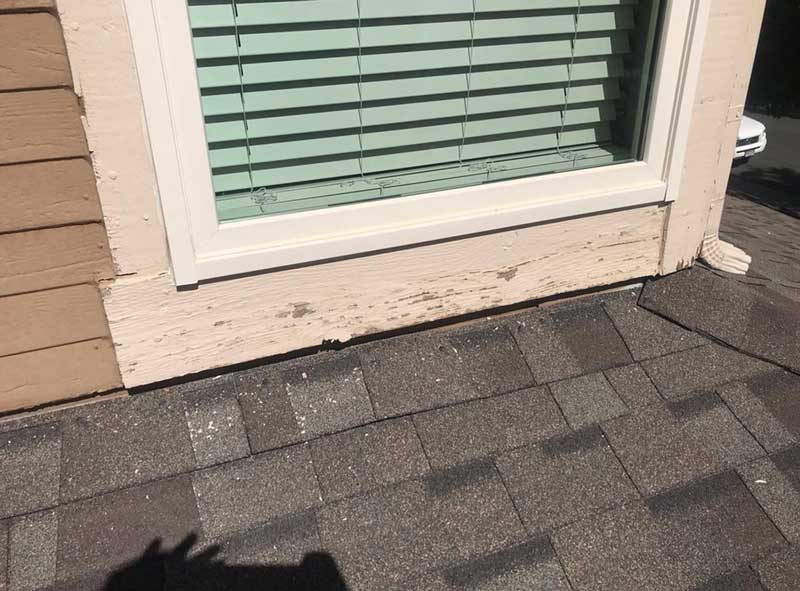 Windows and Doors: As you're doing your walk around, check your windows and doors for any obvious damage. Broken glass is an easy giveaway that repairs will need to be made. But there can also be damage done to the frames and structure around any openings. Make sure all windows and doors open and close easily and don't have obvious new drafts flowing through them. Also look at the cladding around the window and door frames. Some custom windows can easily be dented from hail and inclement weather. This type of denting damage can greatly affect the value of your home because windows are expensive. You can get an idea if there were high enough winds to do any damage from the collateral organic materials that can stick to the side of the house. This can be a sign of extreme hail damage.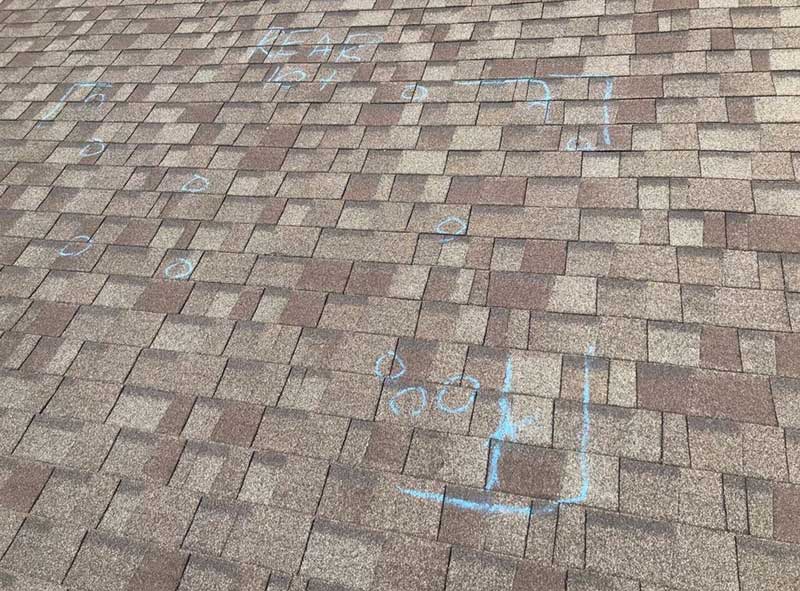 Roof and Gutters: Replacing and repairing damaged roofing and gutters is really our bread and butter! It's the work we do the most of for our clients. So if you have an issue with your roof, we want to be your go-to-guy when it comes to roofing. Your roof is an integral part of keeping your house protected and dry during more extreme weather. Hail can greatly reduce the life of your roof depending on the type of roofing material that you're using. Checking for missing or damaged roofing tiles or shingles and areas of possible water penetration is important.
Make sure the gutters and drain spouts are secure and undamaged. If you've chosen to get up on your own roof, while you're up there, remove any branches that may have gotten stuck and clean the gutters of leaves and debris to make sure that water can still drain from the building properly. When gutters get backed up with an abundance of rain or snow, the water can cause damage as it finds it way inside your home. And in the winter, clogged gutters can cause ice damning and that can also lead to damage with your roof and soffit if it's not taken care of.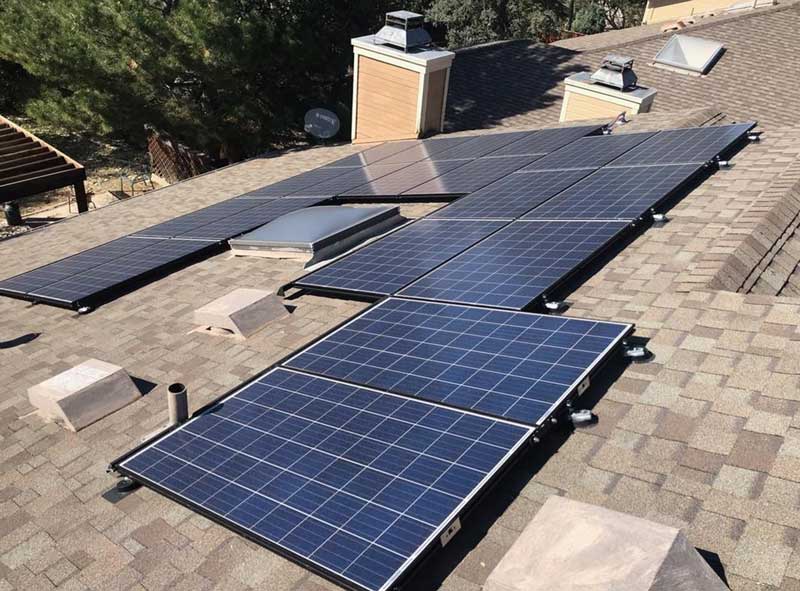 Solar Panels: A lot of homes these days are opting to use solar panels. If you're having a full roof replaced, we'll need to schedule a team to come out to detach and reset the panels. We'll take them down and store them, and after the roof is finished, we'll have them reinstalled. This requires new mounting hardware. We do our best to keep your solar panel downtime to a minimum by scheduling them as close to the roof work as possible.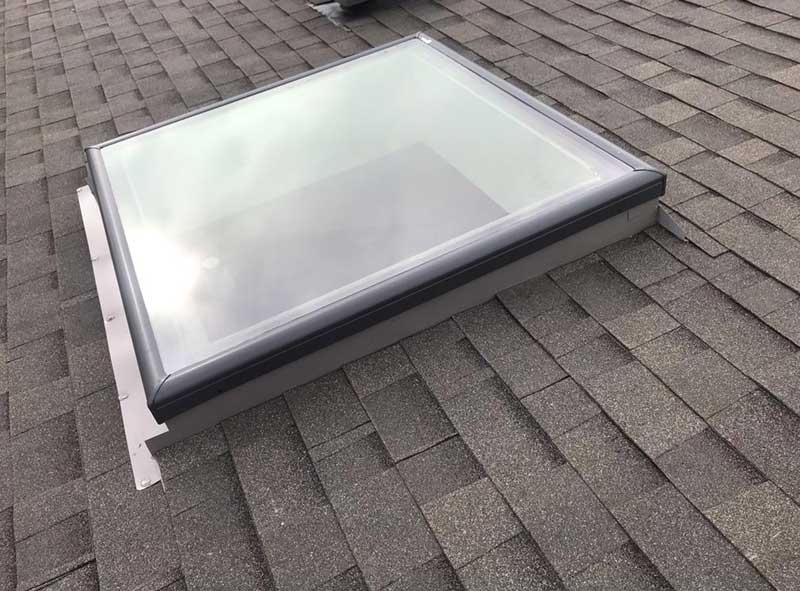 Skylights: Hail storms and/or high winds can be damaging to skylights. It's not uncommon for hail to either crack a skylight or break the seal around the frame which can cause leaks. So after a storm, take a moment to look at them to make sure there's no damage or leaking taking place as best you can. If you discover dripping or water residue on the inside of the house, we can come out and do an emergency repair to keep any further water damage from getting worse. It's not uncommon to need to have your skylights replaced after a significant storm. Especially if the roof sustained enough damage for to warrant replacement. We would be happy to help you through the replacement process when we repair your roof.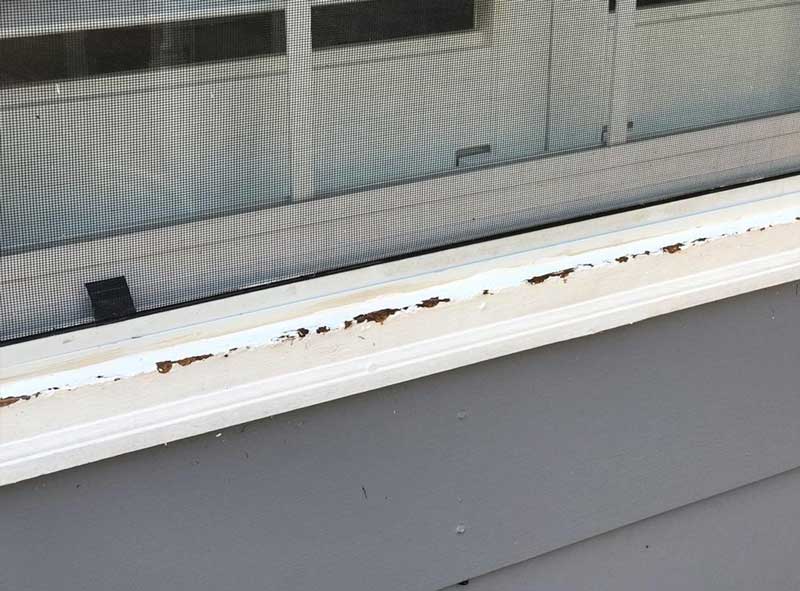 Painting: During a storm there can be damage to the exterior paint. Especially when there's a sizable hail storm. Hail can cause a shocking amount of damage to even the BEST of paint jobs! We have excellent painters that we work with to bring your home back to life!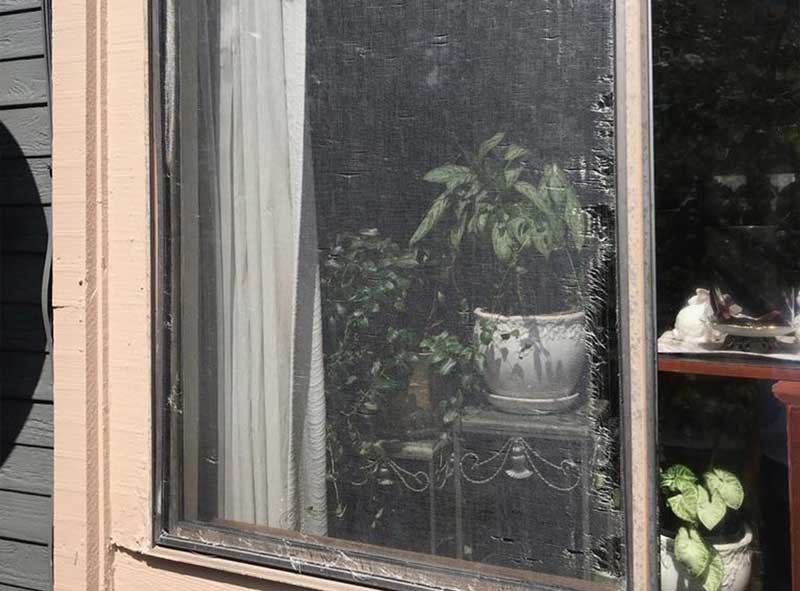 Screens: We can also replace window screens that have been damaged because of hail and flying objects due to wind. Take a look at all of your screens to make sure that they're there and check for possible damage.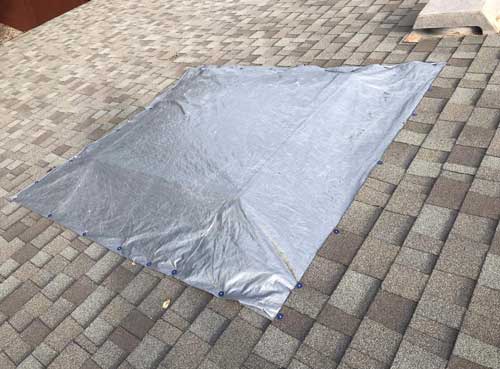 Emergency Roof and Skylight Repairs: Directly after a storm, you may have some damage that needs urgent attention. Contact us immediately so that we can either put up a tarp or do an emergency repair until the full repair is completed.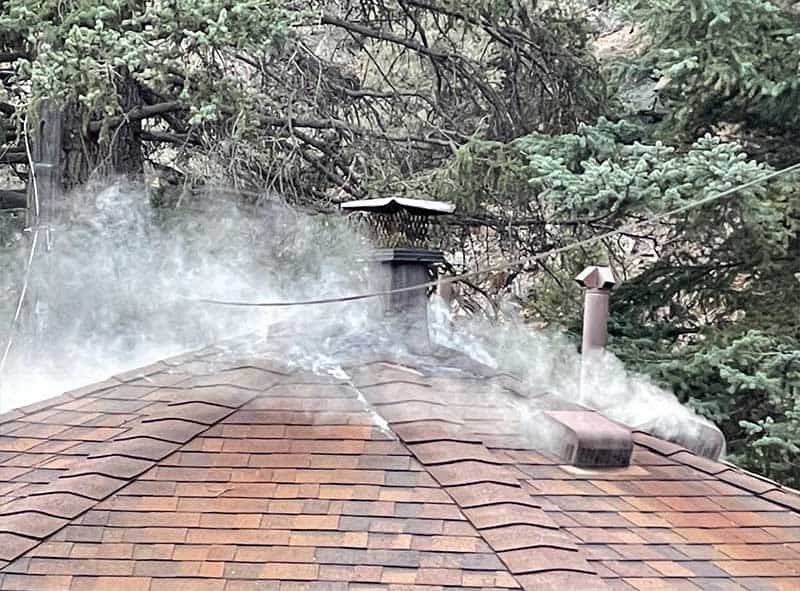 Fire Damage Repair and Restoration: We can help you get a new roof on after a house fire or ember damage. Because we're licensed general contractors, we can help walk you through the process of getting your home put back together after a fire. There's a lot of specialized tradesman that you'll need to engage with. And it can take up a lot of time. Let us help.

We've pretty much seen it all over the years… and we're here for you!
We'll make sure that your home is put back in perfect shape. Better than before!
Call us with any question you might have if it has to do with your home or place of business.
It's important, and we would love the opportunity to help.