Dealing with Recent Roof Hail Damage?
Let us help you navigate your insurance claim without the stress!
Getting a new roof installed is a big project.
Picking the right Colorado roofing company is especially important because you'll have to work closely with them for several months during the process of filing an insurance claim and getting the work done. You want someone that's a GREAT communicator (and will pick up the phone when you call or text), is knowledgeable about the insurance and building process, has the same values, and is professional in every way.
Denny's Roofing IS the BEST CHOICE for YOU!
Let us PROVE IT by getting us out to inspect your damage.
If there's no damage… you'll be able to move on knowing that you're in good shape.
If there IS DAMAGE to your property, THEN the process starts!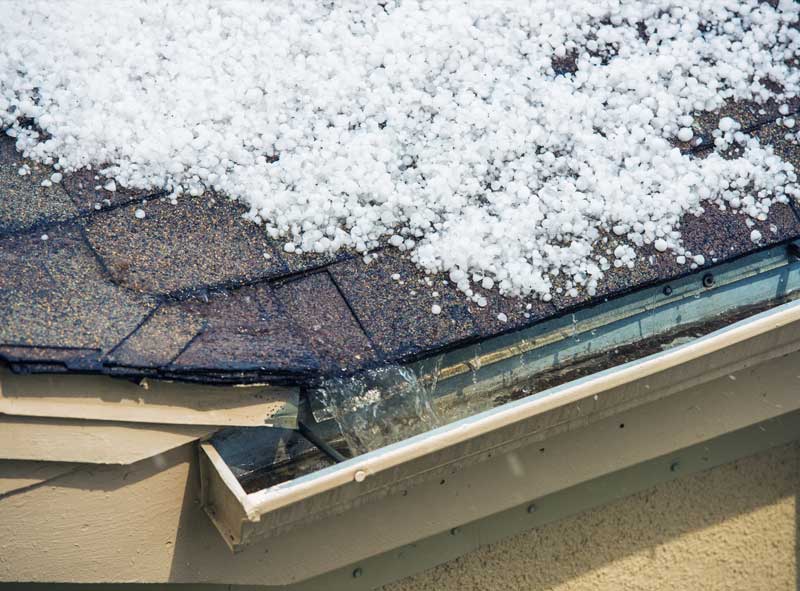 Filing a roofing insurance claim and the following process can be a lot of work and quite confusing. The process can feel daunting. It DOESN'T HAVE TO BE. Our insurance specialists will take the complexity out of the claims process and do the heavy lifting for you.
Are you wondering how long you have to file a hail damage claim with your insurance company? Most insurance companies allow a claim filing up to ONE YEAR from the date of the storm loss. Only a few give more than a one-year window. Rental properties are sometimes as little as 90 to 180 days after the storm. Let us help you navigate the process.
Once you call us, we give you a project manager that will handle all of the necessary steps to get you indemnified and put back to how your home or business was BEFORE the storm.
We become your advocate. You pick the color of the roofing materials and gutters, and we pretty much handle the rest. We'll even give you a FREE upgrade to a Class IV impact-resistant shingle if you don't already have it on your existing roof. This will help protect your roof in the future from the smaller hail storms that might hit. You'll find that the newer quality materials won't get damaged by the smaller storms that would wreck a roof in the past. This will save you money and hassle down the line.

Here's how the process works for a roof replacement AFTER a storm – WITH and WITHOUT an insurance claim:
After a hail storm that may have caused damage, CALL US. We'll come out to your home or business and do a FREE inspection of your roof and the entire property for storm damage.
If we find damage, we'll help you open up an insurance claim.
If necessary, we will use temporary repairs until the full repairs get completed.
Once the insurance claim is opened, your insurance company will send a "field adjuster" out to your property to assess and report the damage back to the insurance company.
We meet the adjuster at the location to ensure that they acknowledge the different areas of damage to get you coverage for any and all damages.
After the field adjuster submits their report, you'll receive the first scope of work as a starting point with your claim. You'll also receive part of the funds to start the repairs.
We'll make sure you fully understand the insurance company's estimate. ACV vs RCV and Depreciation Policy language. We sign an agreement that allows us to work with the insurance company on your behalf as your contractor.
Any supplemental areas that aren't covered by the initial estimate will be added to the claim based on items that are required by your municipality's building codes. If you need supplements, we'll work directly with the insurance company to request the changes for you.
Process of going back and forth with the insurance company after the insurance claim paperwork is sent in for supplement approval. Once it's approved, we can begin working on your roof repairs.
We get a building permit based on the specific city or county building codes.
If you have solar panels on your roof, we arrange to have them taken off and stored on site.
We order the appropriate roofing materials and have them delivered to the work site.
The roof is removed and replaced (for residential roofing usually 1 to 2 days of work).
If new gutters are needed, they're built and installed. If solar panels were removed so that the roof could be replaced, the panels are reinstalled within days.
The new roof is then inspected and approved by the local building inspector.
If needed, painting, windows, siding, or other trades are scheduled and completed. We check and approve all of the work.
When the work is completed, your project manager invoices your insurance company for final payment based on your approved scope and adds on any additional items that might have come up during the installation. The invoice includes any remaining depreciation and additional supplements that were necessary. If photos of the completed work are required, we'll send the photos.
You'll receive the additional funds directly from the insurance company.
We sit down and go through the scope of work line-by-line before you pay the final invoice for accuracy.
Any and all the questions you have along the way about the insurance process and putting a new roof on, we're there to answer all the questions along the way.
Everyone's happy! You share your review of how great your experience was with family and friends, and on a couple of review sites to let people know how good of care we've taken with you (thank you in advance!)
We're really happy to have had the opportunity to serve you and walk you through the entire process!
To find out how long your insurance company allows a claim to be filed after a storm, you can look it up online or call your insurance company to find out.
If you're just getting a new roof WITHOUT insurance:
The process is rather simple…
Decide to use Denny's Roofing as your contractor.
We sign a contract, pick a start date, and get a building permit.
You pick the color of the materials and have them delivered. We collect a down payment once the materials are up on your roof.
We replace the roof and set up any additional trade work that need to be done.
Roof looks GREAT and we then have it inspected by the city or county. It passes inspection.
The Roofing work and additional trade work are completed and paid for.
Everyone's happy. We get an amazing review and referral from you!